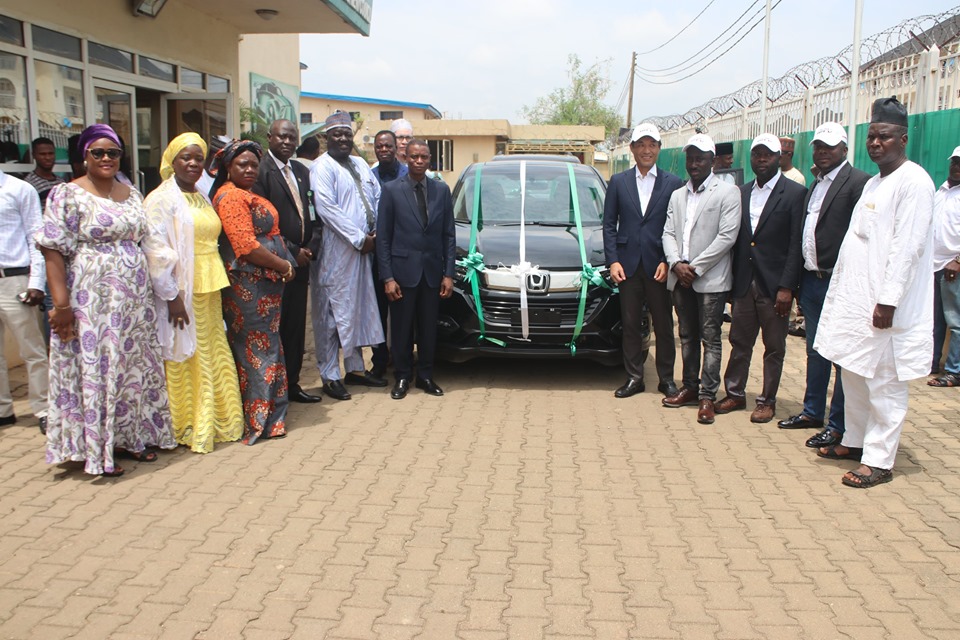 HONDA PRESENTS THE ALL-NEW HONDA HR-V ASSEMBLED IN NIGERIA TO NADDC.
The all-new Honda HR-V assembled in Nigeria at the Honda Assembly plant in Lagos has been presented to the Federal Government regulatory agency for the automotive industry, the National Automotive Design and Development Council, NADDC.
The new vehicle was brought from Lagos to Abuja by the Managing Director of Honda Automobile Western Africa Limited, Mr. Akihiro Daido accompanied by the Marketing and Sales Manager, Mr. Remi Adams and other senior officers of the company.
On hand to receive this latest Nigerian auto product were the Board Chairman of NADDC, Senator (Chief) Osita Izunaso, NADDC Director General, Mr. Jelani Aliyu and the entire Management team of NADDC as well as an array of journalists with their cameramen from radio, television, newspapers and online publications.
The new bride, Honda HR-V was welcomed ceremonious at the Abuja City Gate and led through the city in a carnival-like motorcade to the NADDC Headquarters in Gudu Disdtrict.
Mr. Remi Adams of Honda Automobile W.A. briefed the NADDC top-shots and the mass media extensively on the special features and modern technology embedded in the all-new HR-V which comes with a 1.8 litre engine.
NADDC Board Chairman, Senator Osita Izunaso drove the car round the Council's premises while Mr. Jelani Aliyu inspected its special features.
Chief Izunaso remarked, "I have driven it round, all I can say is that it is a very good one, it is luxurious. It has some distinctive features which similar vehicles in its class do not have. It is a way of making available to the middle class some of the super luxury that the big boys enjoy in the big SUVs. However, Honda needs to combine luxury with affordability. If it is good and it is affordable, then it is truly good."
Read More..........